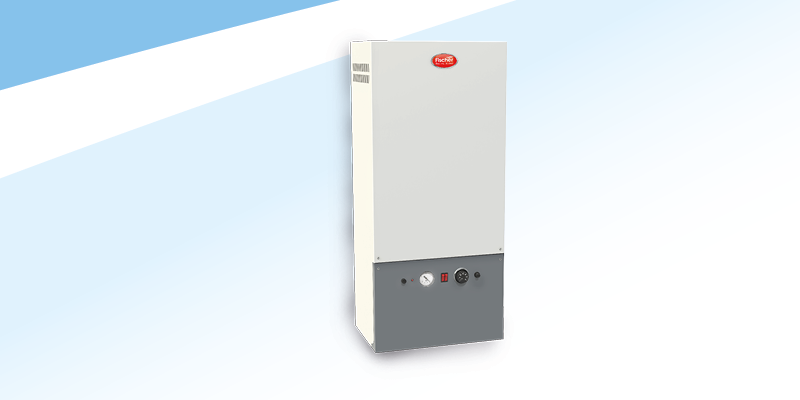 With the UK government's focus set on phasing out gas boilers and working towards carbon net zero now is the perfect time to consider the alternatives to gas boilers. In this guide, we take a look at your options, along with the benefits of each to find out what are the best alternatives to gas boilers.
Why consider alternatives to gas boilers?
Although gas boilers are extremely popular, with over 1.7 million installed in the UK in 2019 alone, many people underestimate their impact on the environment. Switching to a cleaner alternative will reduce your carbon footprint, and help the UK on the road to zero carbon.
In fact, a recent study showed that "the millions of gas boilers in the UK's homes produce twice as much climate-heating carbon emissions as all the nation's gas-fired power stations combined."
We must also consider the fact that no gas boiler is 100% efficient. Modern boilers are usually over 90% efficient. If we take a 92% efficient gas boiler as an example, this means that 92% of the energy used by the boiler goes towards heating the home, while 8% of the energy is lost.
However, "boilers over 25 years old can be as little as 60% efficient."
This would mean that 40% of the energy used by the boiler is never used to heat your home and is instead completely wasted.
With about 60% of your energy bill (on average) going towards heating your home, it is imperative that your heating system is efficient in order to reduce wastage and unneeded expenditure on energy.
Why go green?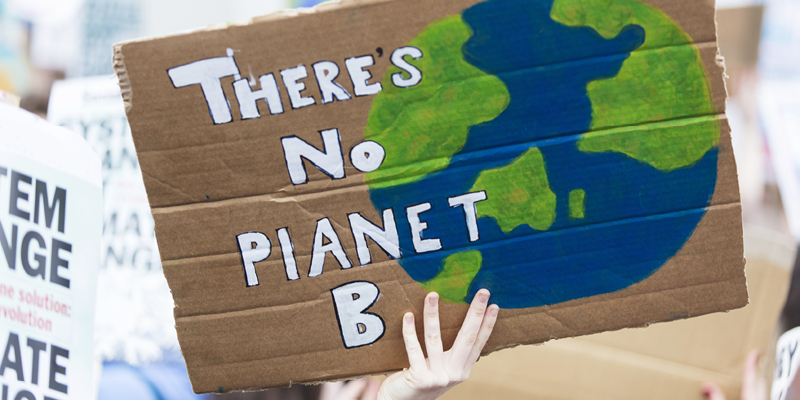 The UK government has already set a date for banning the installation of gas boilers in new properties. From 2025, it will not be possible to install a gas boiler in any new home,
and the goal for an outright ban on all gas boiler sales is currently set at 2035.
The earth's temperature has risen by 0.14 degrees centigrade per decade since 1880.
2020 was the second warmest year on record based on NOAA's (National Oceanic and Atmospheric Administration) temperature data.
A rise in the earth's temperature has a negative impact on a number of factors, such as temperature related illnesses, melting ice caps and an increased amount of crop failure.
But why is the earth's temperature rising? Mainly due to the amount of greenhouse gases in our atmosphere, which hold on to heat. Carbon dioxide is one of many greenhouse gases, and is released when we burn fossil fuels to power and heat our homes and industry.
What are the alternatives to gas boilers?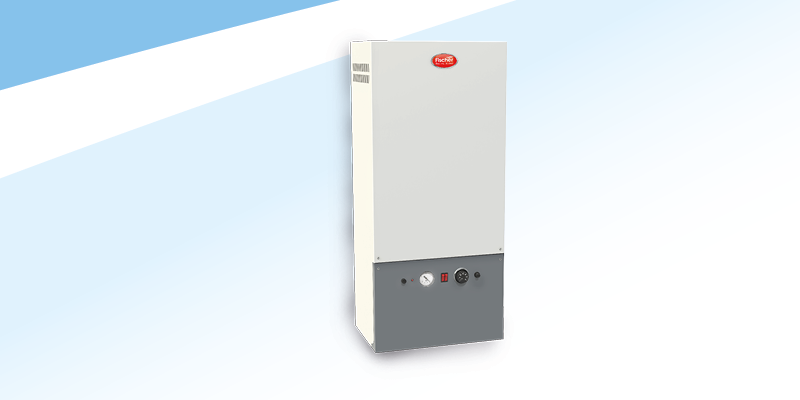 Electric Boilers
Electric boilers are a cleaner, more efficient alternative to gas boilers. All electrical heating appliances are 100% efficient, in that they convert 100% of the energy they use into heat, meaning there is no energy wastage at the point of use.
Gas combination (or combi) boilers use a burner to heat water as and when it is called for. With an electric boiler, as there is no gas supply required, thus no flame, an element is usually used instead. This element will either heat water on demand, or keep a level of water stored within a small tank.
Although this may mean that an electric boiler is physically larger, it reduces your carbon footprint by removing the harmful fossil fuel.
The Fischer Electric Boiler (EB) is available as both a duo (electric alternative to combi) and a heating only boiler, which allows you to separate your heating and hot water systems and invest in a more efficient alternative for bathing etc.
Offered with a wireless thermostat for heating control as standard, you can be in full control of your heating from anywhere within your home.
The duo boiler is equipped with two independent tanks, both insulated with 10mm of icolem insulation. One tank is for hot water, with a capacity of 100L, manufactured in AISI316L stainless steel, designed to work up to 70c. There is also an in-built expansion vessel, saving on valuable space within your home.
Due to the volume of water contained in the tank, you can remove your existing system boiler and hot water cylinder, and simply replace them with one single Fischer EB.
The second tank is carbon steel and is part of a closed circuit for heating, designed to work up to 90c, also with its own expansion vessel.
However, with all central heating systems, you are reliant on one central thermostat. This thermostat is usually located in the hallway, meaning that you are unable to control your heating per room.
Electric space heating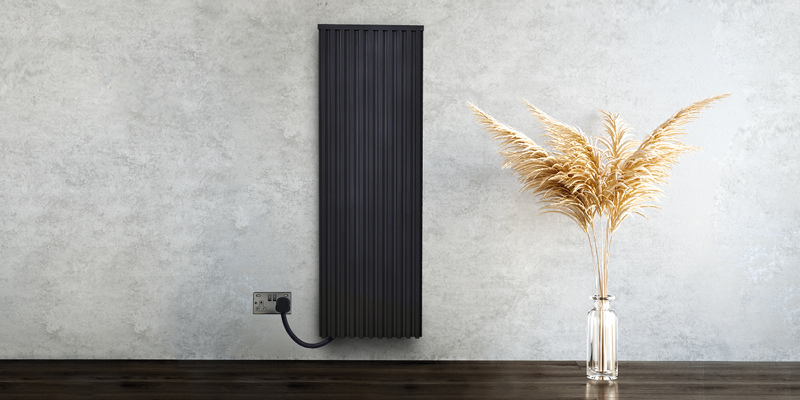 With most central heating systems, you are reliant on one central thermostat. This does not allow room-by-room control, meaning your whole home is set to work on one temperature.
Although this does give you an element of control, most people do not want their bedrooms to be at the same temperature as their living spaces. The same applies to many other areas of your home.
Individual electric radiators offer you the ability to control the temperature of each room individually, often with wireless thermostats.
They are also 100% efficient, as they are electrical heating appliances.
Historically, people have opted to install night storage heaters in their homes, especially where utilising mains gas is not possible. However, night storage heaters come with their downsides too. They are often bulky and unattractive (especially the older models), lose a lot of heat from the back and offer even less control than central heating systems.
Fischer dynamic clay core radiators are designed to be aesthetically pleasing, only 11cm in depth and available in a number of selected RAL colours. Manufactured to include a purpose built convection chamber in the back to aid in the distribution of heat and reduction of wasted heat, their sleek, modern design does not affect their efficiency.
Fischer dynamic clay core radiators are not only slimline – they also come with many other benefits.
They are also designed to be efficient and controllable for complete comfort and peace of mind, and have even had their efficiency tested and verified by BSRIA, BRE and EST.
Our dynamic clay core radiators also contain a patented 40mm chamotte clay core. Our 40mm clay core is double the thickness of the core found within many other electric radiators, which is usually around 20mm or less. Double the thickness, resulting in double the amount of heat storage, further improving your comfort.
Wi-Fi control options are also available, allowing you to control your heating from anywhere in the world. Utilising a smart thermostat and receiver, along with a smartphone app, you can set custom programs, temperatures and other heating scenarios at the touch of a button.
Air Source Heat Pumps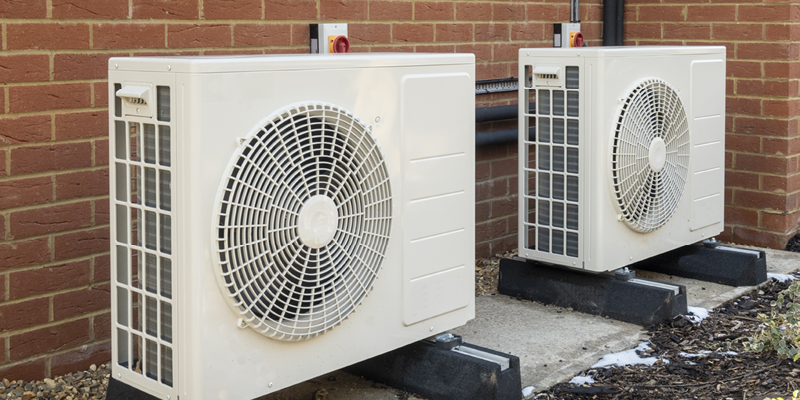 Air source heat pumps are all the rage, with the government even offering money towards certain heat pump installations.
An air source heat pump works on the premise of taking in air, extracting the heat, sending that heat into a refrigerant and generating further warmth through compressing said refrigerant.
The air is inducted through an external fan, which sits outside of your home. The external fan unit is usually rather large, causing issues when it comes to choosing a position for its installation. They are also notoriously noisy, causing disruption to a summer barbecue or garden party.
With that said, there are some concerns within the heating industry when it comes to air source heat pumps.
A modern gas, oil or electric boiler will provide hot water to your heating system at 75-85 degrees centigrade.
An air source heat pump will provide hot water your heating system at around 35-40 degrees, a significant difference.
Even with the supplementary element kicking in, the maximum temperature output for a heating loop from an air source heat pump is around 65 degrees. Even the warmest of people would notice a significant difference in temperature between an air source heat pump and a boiler.
In addition, the kW requirement of an air source heat pump is often in excess of 10kW, meaning it can be difficult to find enough spare electrical load to allow for installation.
A high level of insulation is also vital for improving the efficiency of an air source heat pump, something that many homes within the UK are lacking.
In fact, a recent report by the Energy and Utilities Alliance (EUA) states that a "majority of UK homes are not suitable for a heat pump."
However, hot water is required 365 days a year and air source technology is an excellent option for heating your water.
Air source water heaters can actually be two to three times more energy efficient than a conventional water cylinder.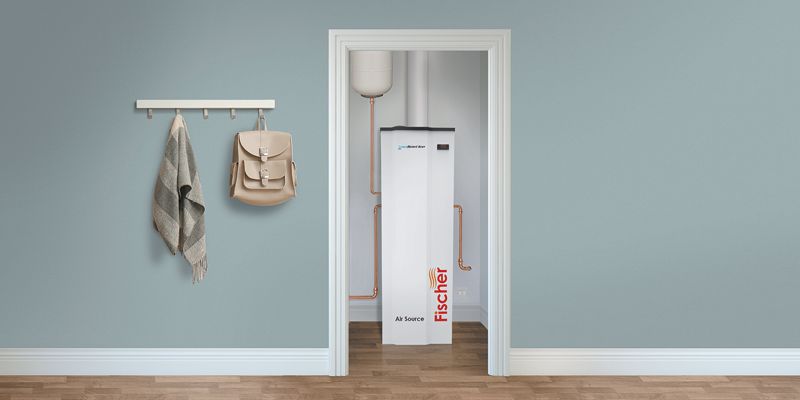 Our Aquafficient Eco+ is an air source water heater, and it is ideal for most homes in the UK.
Thanks for the special design of the compressor, hot water is available at 60 degrees centigrade and with a power requirement of less than 10-amps, the Aquafficient Eco+ requires only a standard 13-amp socket to install.
Aquafficient Eco+ also contains an automatic anti-legionella disinfection system, which activates once a week to remove the risk of legionella bacteria. It can also be installed alongside our heating only boiler, allowing you heat both your home and water efficiently.
You can of course use the Aquafficient Eco+ as a stand-alone hot water system, or even combine it with Fischer dynamic clay core radiators. The opportunities are endless (almost!) Wall mounted and floor standing options are available, and the unit can be installed in a loft where possible, ensuring you save valuable space within your home.
Solar & Battery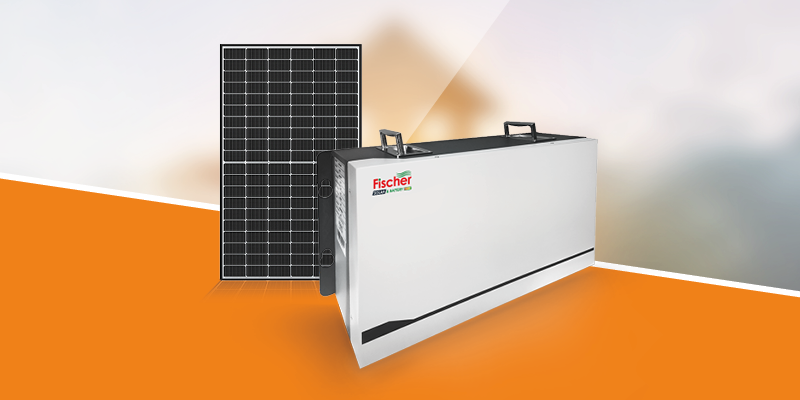 Although solar panels are not a form of heating themselves, they can be utilised to work alongside any electric heating system.
There are two main types of solar panels – solar PV and solar thermal.
Solar PV works on the premise of converting sunlight into energy, which is then distributed to any electrical appliance within your home. Solar thermal works by heating water directly on the roof, and then using this heated water for your hot water cylinder.
With an electric boiler or electric radiators, this solar energy can be used instead of energy drawn from the grid, further reducing your carbon footprint.
A solar diverter can also be added to most hot water systems. The diverter acts by rerouting any excess solar energy to your hot water system, energy that would have otherwise been sent back to the grid for little or no return.
Our Aquafficient is available as an AquafficientSolar, installed with a solar diverter as standard.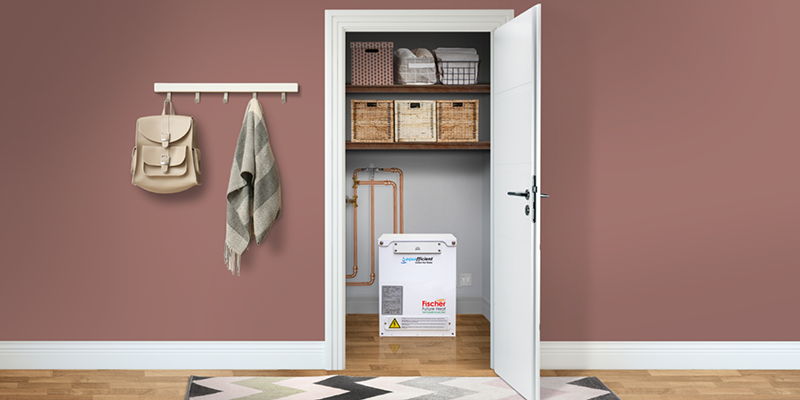 Aquafficient is a modern, efficient and reliable way to hear your water. Utilising a 2.8kW heating element and patented thermal storage technology, the Aquafficient unit provides hot water on demand, without the need for huge amounts of water storage. No yearly maintenance is required, taking away the stress and expense of finding a plumber to check over your system once a year.
There is also no requirement for a water discharge pipe, meaning the installation of the Aquafficient is stress free and mess free, even in smaller or more difficult to access areas of your home.
Manufactured specially for Fischer Future Heat, the Aquafficient uses a natural salt-based thermal storage material to store heat. Working in a similar way to a thermal store cylinder, minus the expensive maintenance, there is zero water storage within the unit itself.
The thermal storage material stores heat, not energy, and as cold water runs through the highly efficient and robust heat exchanger, it becomes hot within seconds and subsequent warm water is fed to your appliances in less than a minute.
Aquafficient can store four times more energy than a domestic water cylinder in a unit half the physical size.
Not only does the Aquafficient give you a much more efficient solution when it comes to heating water, it also saves huge amounts of physical space in most situations. An Aquafficient unit, which provides 150L of hot water, is only half the height of an average 150L hot water cylinder.
Compatible with Economy 7, Solar PV and other types of renewable electricity sources, Aquafficient is the way forward when it comes to reducing your carbon footprint.
Boiler replacement scheme
In October 2021, it was announced that the UK government would offer a £5,000 grant towards replacing your gas boiler, known as the "Boiler Upgrade Scheme."
"The new scheme will encourage people to install low carbon heating systems … which run on electricity."
Get quotes for alternatives to gas boilers?
We can help! Whether it is an electric boiler, electric heaters or even a new hot water system – we have the product for you.
Request a free catalogue today through our website, or by calling 0800 103 2700 and our friendly customer service advisors will be happy to help.