At Fischer, we pride ourselves on our exceptional customer service, proven by our excellent ratings on independent review sites Trustpilot and Feefo. For any company it is important to receive customer feedback. Reviews give us the chance to improve our services and to put things right, if on the rare occasion something hasn't quite gone to plan. Fischer reviews are also helpful for other customers searching for electric heating solutions.
Let The World Know
Our customers are proud to let the world know about their experiences with Fischer, both in our customer service and the products we install in their homes. At Fischer we have received nearly 5,000 reviews on Trustpilot who give us an 'Excellent' rating and 300 reviews on Feefo, scoring a very healthy 4.7 stars out of 5. Safe to say, here at Fischer we work incredibly hard to achieve the best customer reviews we can and we will continue to do so.
if you are thinking of installing a Fischer product, why not spend some time looking at Fischer reviews and see for yourself. In the meantime, we've collated a few of the best Fischer reviews in this blog. Happy reading.
One customer said we, "arrived at good time in the morning and were very friendly and professional. They fitted the unit with no fuss."
Another customer said that, "Everything worked as expected, arrived on time, both members friendly and got on with the job in hand. Removal of the water tank and installation of the new boiler was very efficient. After installation, I was shown how to operate the new boiler. I have nothing but praise for how well everything went, right from the initial enquiry. A very efficient and professional job"
Fischer Space & Water Heating Solutions
With an ever-growing range of home space and water heating solutions, we offer the complete home solution for anyone looking to make the switch to alternatives that are more efficient than their existing systems.
With the world focusing on a cleaner, electricity driven future, now is the perfect time to switch away from fossil fuels, such as gas or oil, and install controllable, electric heating.
By removing your fossil fuel heating systems, you can reduce your carbon footprint and help the world on the road to zero carbon.
For many years, we have been educating the British public on how and why they should make the switch, installing over 250,000 Fischer heaters in UK homes. With the introduction of our revolutionary hot water system, Aquafficient, you can take it one-step further and replace your central heating system with independently controlled radiators and an efficient water heater from Fischer.
For those of us who prefer a central heating system, our robust and 100% efficient (at the point of use) electric boiler is the ideal solution. Offering all of the benefits of your existing central heating system, and taking away the need for fossil fuels, making the switch is a no-brainer.
You can read all of our reviews on our Trustpilot and Feefo pages. If you are a Fischer customer, you can even leave your own feedback on your experience with Fischer.
What Our Customers Say
Dolores Palmer said:
"The team arrived on time and were polite and friendly. They quickly worked out the best method of connecting the heaters. The work was carried out to a high standard. Thank you!"
Alison Milne said:
"From the initial point of contact with Fischer Future Heat, then the assessment and finally the installation of radiators, I have been impressed with the outstanding customer service and communications from the company. Everything has been explained in detail and commitments honoured. I have nothing but praise for my experience with this company and would recommend them wholeheartedly."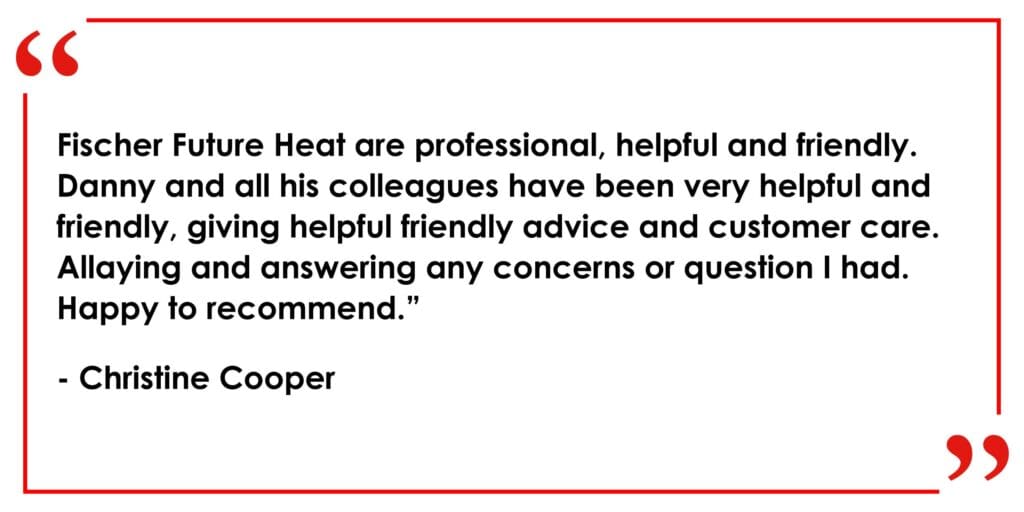 Christine Cooper said:
"Fischer Future Heat are professional, helpful and friendly. Danny and all his colleagues have been very helpful and friendly. giving helpful friendly advice and customer care. Allaying and answering any concerns or question I had. Happy to recommend."
Mr Lavender said:
"The service from Fischer from our first enquiry to the supply and installation was absolutely first class. The heaters are very efficient, easy to programme and fit unobtrusively into our home. We highly recommend this product."
Alastair Gibson said:
"The whole process from buying to installation was efficient. The installed system works easily, is responsive to variations in seasonal temperatures and has improved heating in a normally cold part of the house."
Susan Bartlett said:
"I have six Fischer heaters in my flat and they are excellent. Rooms can be individually temperature controlled wirelessly. The installation engineers were helpful and left everything clean and tidy. I would recommend these heaters to anyone."