Everything you need to know about electric boilers.
What is an electric boiler?
An electric boiler works in a similar way to a gas and oil boiler but uses electricity as its power source instead of combustible fossil fuels, which are damaging to the environment. Electric boilers come as a range of products including electric combi boilers, electric system boilers and electric flow boilers.
Over 2 million UK homes have no access to the gas network so using electricity to heat homes and hot water is a concept many will be familiar with. However, in recent years electric boilers and electric radiators are becoming increasingly popular with homeowners who use gas, mainly due to their 100% efficiency ratings and environmental benefits.
How does an electric boiler work?
If you are used to a gas central heating boiler, switching to an electric boiler is a quick and easy process. An electric boiler receives cold water from your mains water supply and when you need hot water for central heating or your taps, the cold water then passes through an electric heating element to warm it. This warm water is then pumped to your radiators and/or taps whenever you need it.
The exact method of heating depends on the type of electric boiler you use.
What are the advantages of an Electric Boiler?
Low Maintenance Costs
If you have a gas boiler you will be more than aware that an (increasingly costly) annual service is required to maintain your guarantee, and to keep it functioning. Gas and oil boilers have a number of moving parts which means more things can go wrong.
Electric boilers have no moving parts and require only minimal maintenance. A unique aspect of the Fischer Electric Boilers is the fact that all parts of the boiler can be individually replaced. This means that the life span of the Fischer Electric Boiler far outweighs the 8-10 year average of a gas boiler.
Better for the environment
Electric boilers emit zero carbon emissions and when they are operating have a far lower carbon footprint compared to combustion/fossil fuel boilers.
Safety
As there is no combustible fuel within an Electric Boiler, there is no risk of gas leaks and no risk of explosion.
Easy Installation
Electric Boilers are often much easier to install than gas and oil boilers.With no requirement for a flue an Electric Boiler can be placed almost anywhere within the property.
Low Installation Costs
As Electric Boilers are fairly simple and easy to install, the overall cost of the installation is much lower than a gas boiler.
Quiet 
Electric boilers operate smoothly and often without any noise. We've all heard the gas boiler grunting and wheezing to life which can be a touch disconcerting. You won't have this with a Fischer electric boiler.
Flexible 
If your home is not connected to the gas grid and you do not have the room for an oil tank, an electric boiler is the ideal heating solution.
Compatible with solar panels 
Generating your own energy via solar panels can help reduce your electricity costs and your carbon footprint. Fischer electric boilers are fully compatible with solar panels.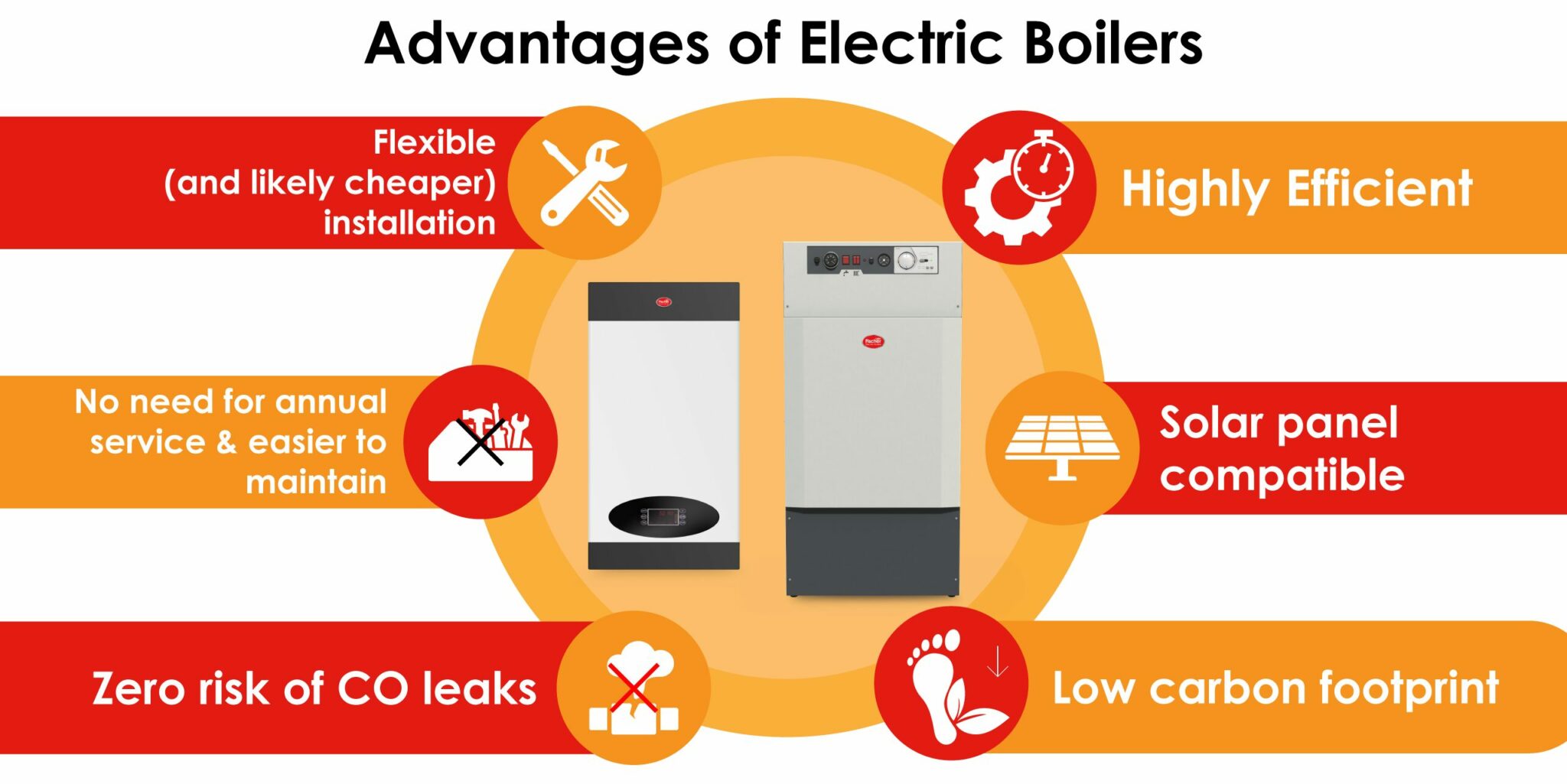 The disadvantages of electric boilers
Here at Fischer we are passionate about all things electric heating and believe that in the not too-distant future all homes in the UK will have their homes heated by electricity. But, in the interests of transparency it is important to acknowledge some of the perceived disadvantages of electric boilers.
Gas is cheaper than electricity
It is no secret that historically gas prices are cheaper than electricity. In recent months due to the war in Ukraine this disparity is shortening. Electricity has always been subject to heavy environmental taxes which pushes the price up, but the Government has recently suspended these environmental levies on residential homes reducing the difference in price even more.
Whilst electricity is more expensive than gas, electric boilers are considerably more efficient and waste less fuel than gas boilers. For every 1kW of electricity you pay for, you will receive 1kW of heat. Gas boilers can range from as little as 60% efficiency for older models up to 93% at the higher end.
An electric boiler works best in a well-insulated home
The UK's housing stock suffers from a lack of well-insulated homes and improving the energy efficiency of your home can reduce carbon emissions by up to 40% and cut how much electricity you need to keep you warm.
If you are considering the switch to electric heating loft insulation, cavity wall insulation, double glazing and floor insulation can all have a significant benefit and is a worthy investment.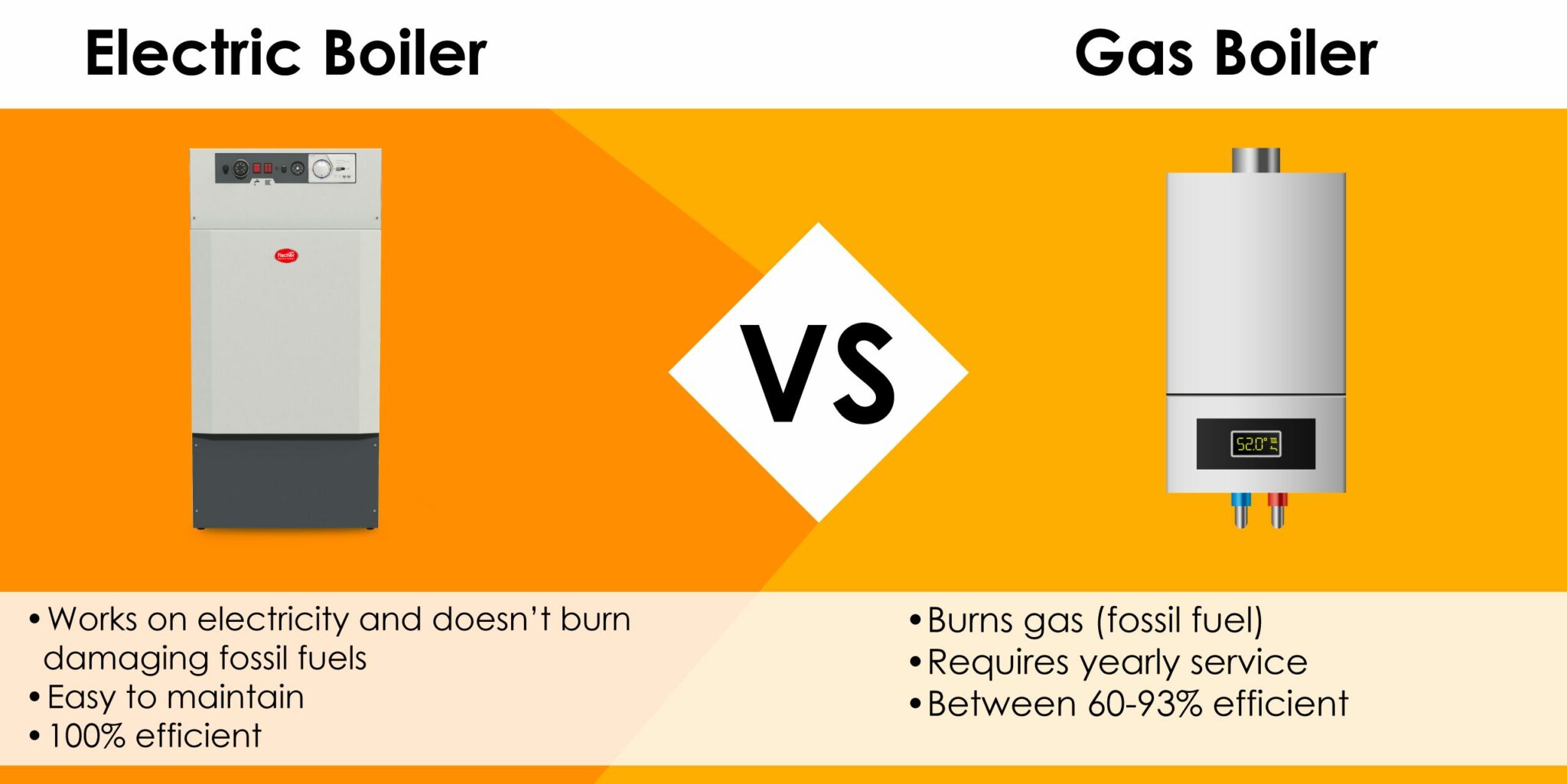 What are the types of electric boilers?
Heat Only Electric Boiler
The Fischer Heat Only Electric Boiler is the ideal replacement for an existing system boiler. It works seamlessly alongside the Aquafficient, Aquafficient Eco+ or your hot water cylinder.
Floor Standing and Wall Mounted Electric Combi Boiler
The Fischer Electric Boiler has been designed to offer quality, durability and efficiency. Fischer's unique heating element is manufactured to ensure the electric boiler provides high levels of resistance to a wide range of elements.
Fischer electric boilers produce zero emissions which means there is no requirement for a flue.
The Fischer floor-standing electric combi boiler features two thermally insulated independent tanks. Manufactured in stainless steel with 20mm of insulation, one tank provides hot water with a capacity of 100L and is designed to heat water up to 70°C.
The second tank is for heating and is also made from stainless steel. This tank is part of a closed circuit for heating with insulation of 10mm and is designed to heat up to 90°C.
The Fischer electric boiler also features its own in-built expansion vessel.
Installation of an electric boiler in your home
Almost every home in the UK is supplied with either a 60, 80 or 100 amp fuse. This main fuse dictates how many amps of electrical appliances you can install in your home.
When making the switch to electric heating, you may need to increase the size of the main fuse in your home. This is something that Fischer can help you with.
We can arrange for the main fuse to be upgraded on your behalf, and we will ensure everything is in place in time for your installation.
In situations where the main fuse cannot be upgraded, we can supply you with our very own priority consumer unit.
Our priority consumer unit helps to balance the electrical load, prioritising the most important appliances in your home.
For example, most of us don't require heating in our bedrooms throughout the day, so our priority consumer unit will switch those heaters off during this time, allowing you to use the appliances that you do need.
When the evening comes around and you switch on your electric hob, our priority consumer unit will turn off those appliances that are not required to allow your electric hob to work, without having to worry about electrical overload or tripping.
Go Green, Go Clean with an Electric boiler
Along with our ambition for the UK to switch to electric heating powered by renewables, reducing how much waste is sent to landfill is another great way to reduce carbon emissions.
At Fischer, we have taken it upon ourselves to make all of our products repairable, rather than generating more waste through replacing an entire system. In order to work towards a cleaner future, every part in our electric boilers can be replaced individually.
This will significantly reduce how much waste is generated, in spite of an otherwise disposable culture.
Make the change to a zero emissions electric boiler today.
Apply Now