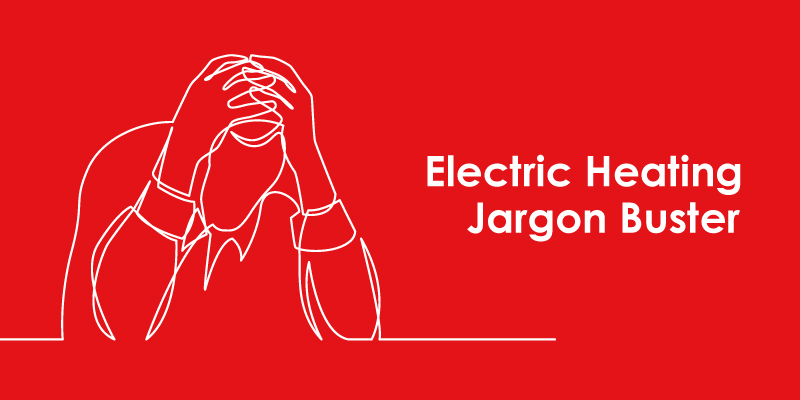 Shopping for electric heating can be a difficult task. There are industry terms flying around, which some people do not know the definition of. But we want to make it as easy as possible for you! In our electric heating jargon buster, we cover terms we think you need to know the meaning of before purchasing a new electric heating system.
Technical Information
kW (wattage)
Another abbreviation you may have seen everywhere is "kW" which stands for kilowatt. Kilowatts are units of power and in the electrical heating world describe the power output of your heater.
The larger the number of kW, the more powerful the heater. This means the heater will heat your room to your desired temperature much quicker. There is no such thing as a heater that is too powerful; however, an undersized heater can affect both your comfort and electricity bills.
During our free no-obligation survey, our trained heating engineers, using precise calculations and factoring in any heat losses in your home, will decide which size of heater each room requires based on the kilowatt requirement.
IP Ratings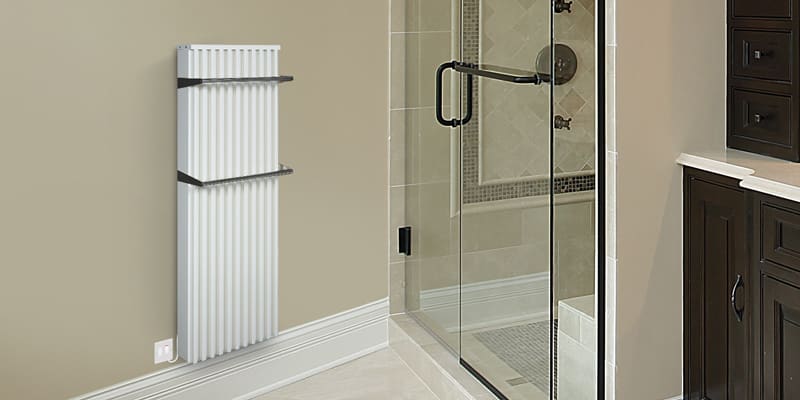 IP ratings are related to how well a product can withstand certain levels of solids or liquids.
IP stands for Ingress Protection. IPX4 is a rating that is often found in the electric heating world, as it is the most common rating for a bathroom heater. IPX4 protects your heater from "splashing water, no matter the direction," making an IPX4 rated heater ideal for a bathroom.
The heater must then be within a certain zone, all based on the IP rating. For a heater rated IPX4, it must be installed at least 60cm away from a source of water.
Our Fischer bathroom heaters are IPX4 rated, meaning they are perfect for most bathrooms. One of our trained engineers will specify the right heater for your needs during our free, no obligation survey.
Lot20 Compliant
Lot20 is a legislation relating to energy using and energy related products. It is an attempt to reduce the UK's energy consumption, which is vitally important, as the UK government have passed law that the UK must achieve net zero carbon emissions by 2050.
Electric heaters with digital, programmable thermostats are all Lot20 compliant, giving you complete peace of mind that the product you purchase is not an energy-guzzling monster!
Thankfully, all of our dynamic clay core heaters are Lot20 compliant, meaning you can buy with confidence.
Economy 7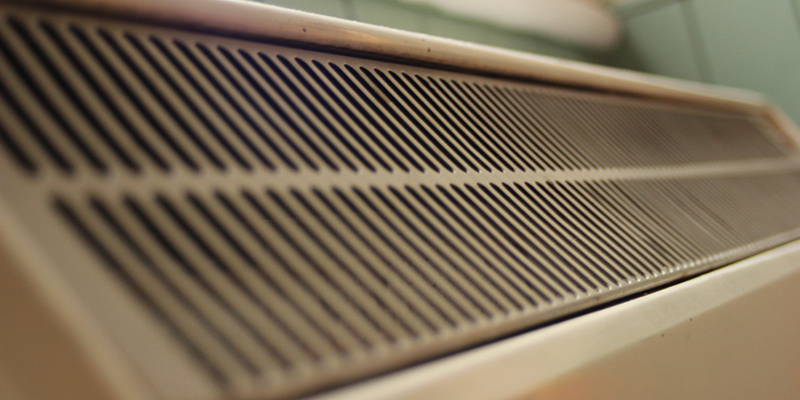 Economy 7 is an electricity tariff that was created to work alongside night storage heaters, providing cheaper rate electricity overnight. Night storage heaters would then take a charge of electricity on this cheaper rate, letting out the heat during the day. However, night storage heaters have their downfalls.
Modern electric heaters don't rely on Economy 7, allowing you to switch to a flat rate energy tariff and potentially reduce your electricity unit rate.
Warranties
Manufacturer's Warranty
Many companies offer a warranty, but buying a heating system with a manufacturer's warranty is very important.
Warranties come in all shapes and forms, but manufacturer warranties ensure that even if the company you purchase your heater from no longer exists, your warranty still stands with the manufacturer.
Different Types of Electric Heating
German Clay Core Heaters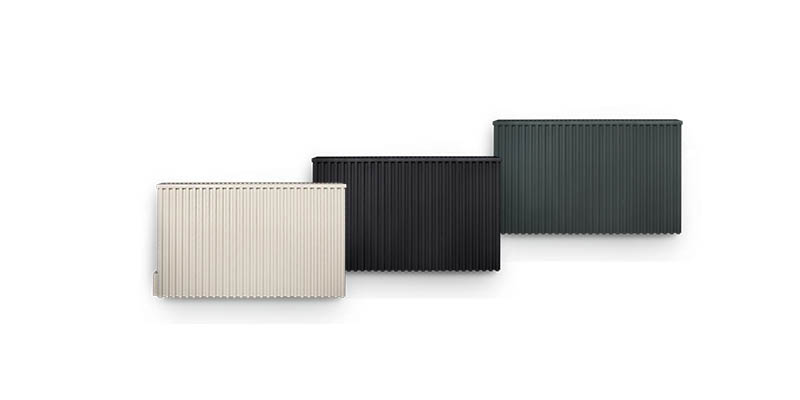 German clay core heaters are the modern alternative to night storage heaters. Manufactured with an internal clay core, they are usually thermostatically controlled for complete comfort. Rather than taking a charge of electricity overnight, they will instead have access to electricity 24/7, providing a comfortable level of heat whenever you need it.
Fischer dynamic clay core radiators are designed to be aesthetically pleasing, only 11cm in depth and available in a number of selected RAL colours. Manufactured to include a purpose built convection chamber in the back to aid in the distribution of heat and reduction of wasted heat, their sleek, modern design does not affect their efficiency.
Fischer dynamic clay core radiators are not only slimline – they also come with many other benefits.
They are also designed to be efficient and controllable for complete comfort and peace of mind, and have even had their efficiency tested and verified by BSRIA, BRE and EST.
Our dynamic clay core radiators also contain a patented 40mm chamotte clay core. Our 40mm clay core is double the thickness of the core found within many other electric radiators, which is usually around 20mm or less. Double the thickness, resulting in double the amount of heat storage, further improving your comfort.
Wi-Fi control options are also available, allowing you to control your heating from anywhere in the world. Utilising a smart thermostat and receiver, along with a smartphone app, you can set custom programs, temperatures and other heating scenarios at the touch of a button.
Infrared Heaters
Infrared heaters are very different to German clay core heaters in the way they heat. Instead of heating the room and the air within it, they heat the people and objects within the room.
Although this may make you feel warm, the fabric of the property will not be heated. However, in terms of design, they are much more discreet, usually in the form of an infrared panel, blending in with your existing décor.
However, infrared panels usually do not come with any controls. Controls instead have to be purchased separately.
Storage Heaters
Storage heaters, or night storage heaters, are another popular form of heating. They rely on Economy 7 to charge up overnight, then letting the heat out throughout the day.
But many users find they run out of heat in the mid to late afternoon, forcing them to utilise a secondary form of heating to stay warm.
They come with very basic controls, not allowing you to set a heating program or temperature. They are also notoriously heavy and bulky, and aren't the best at evenly distributing heat throughout your room.
In fact, we recently wrote about storage heaters, their downfalls and how to replace them with a more modern, efficient alternative.
Control
Thermostat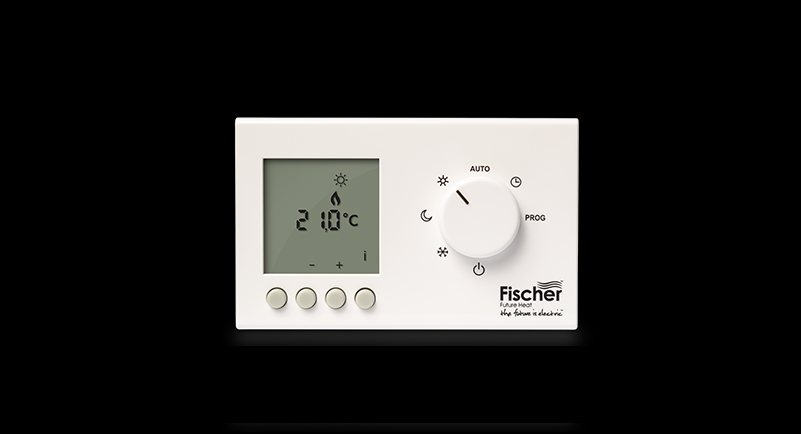 A thermostat is a staple of heating control. Thermostats take a temperature reading from somewhere within the room. This temperature reading is then used to decide when your heater needs to come on.
This is usually based on a heating program/schedule, and the thermostat will allow you to set different temperature settings for different times of the day.
Wireless thermostats are preferable. Built in thermostats offer the functionality of programming and temperature control, however they take a temperature reading at the warmest part of the room – right next to the heater.
Wireless thermostats take a temperature reading from wherever the thermostat is positioned, allowing you to control the temperature where you are sat in the room for complete comfort.
App Enabled / Wi-Fi controlled
App enabled/Wi-Fi controlled thermostats allow you to control your heating from anywhere in the world, providing you have access to the internet.
Most Wi-Fi heating apps allow you to change your program, amend temperature settings and even monitor the electricity consumption of your heating system. It's also ideal for landlords and those with holiday lets, as you can override any changes your tenants make from within the app.
Fischer dynamic clay core heaters are available with Wi-Fi controls, giving you complete control.
Individual Room Control
Individual room control refers to the ability to control your heating in each room, rather than using a central thermostat (such as with central heating).
With a central thermostat, the only room that will ever reach your desired temperature is the room in which the thermostat is located. By utilising individual room control, you can be in full control of your heating, ensuring every room is at the exact temperature you desire.
Most electric heaters provide individual room control, including Fischer dynamic clay core heaters.