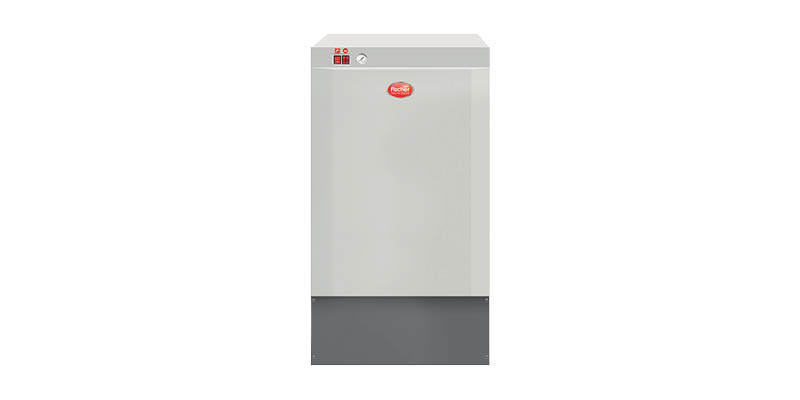 The UK government has made their intentions clear – gas is not a fuel of the future. From 2025, the installation of gas boilers has been banned
in all new properties, and from 2035, the government intends to ban the sale and installation of gas boilers altogether.
These bans are forcing homeowners to seek cleaner, greener alternatives, such as electric combi boilers.
Alongside the gas boiler ban, the UK also became the first major economy to pass a law, which states we must achieve net zero carbon emissions by 2050.
The world was recently witness to COP26 – the United Nations Climate Change Conference, hosted in Glasgow, Scotland. Over 100 countries agreed on a number of further preventative measures in an attempt to curb climate change. Along with plans to end deforestation by 2030, schemes were introduced to cut 30% of current methane emissions – another harmful greenhouse gas emitted when burning fossil fuels.
The world is finally waking up to climate change, and now is the time to do your bit! One of the easiest steps to take is switching to cleaner heating.
We look at the advantages of electric combi boilers, helping you make a decision on your heating system of the future.
What is an electric combi boiler?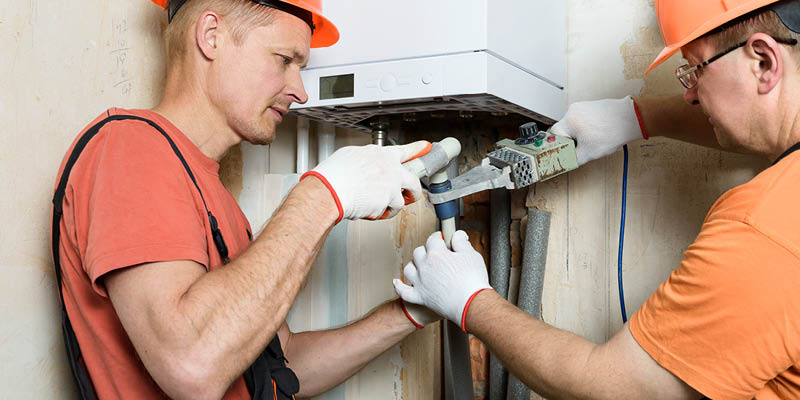 Combi, or combination, boilers provide both heating and hot water to your home. Within a gas combi boiler, a burner is used to heat water on demand.
Within an electric combi boiler, an element is used to heat a tank of water. The tank is located inside the boiler itself. The heated water is then distributed around your heating system, providing heat to your radiators. Water is also distributed to your baths, showers and taps (usually from a secondary tank of heated water).
Gas combi boilers are able to provide almost an unlimited amount of hot water, as long as there is a gas supply, due to the fact they do not rely on any level of stored water. However, electric combi boilers have their limitations because they do rely on stored water.
For properties with a smaller water requirement, an electric combi boiler is the perfect solution. But, that doesn't mean there isn't an option for properties with a larger water requirement!
What are the advantages of an electric combi boiler?
Along with being better for the environment (providing they are powered by a renewable energy source), there are a number of other advantages to electric combi boilers.
One of the major benefits with electric combi boilers over gas combi boilers is their efficiency. All electric heating appliances are 100% efficient at the point of use – converting 100% of the energy they consume into heat. Gas boilers are usually around 90-95% efficient when installed, but lose efficiency over time. In fact, a gas boiler that is over 25 years old can be as little as 60% efficient.
Every gas boiler requires a yearly service to maintain your guarantee and ensure the boiler is working safely.
Many gas boiler users opt to pay a monthly "maintenance" fee to a company who will promise to service and maintain your boiler, which can be as much as £25 a month.
Most electric boilers don't require a yearly service or any maintenance at all, saving valuable time and money.
Another one of the main risks associated with a gas boiler installation is the possibility of a carbon monoxide. Although occurrences are rare, a carbon monoxide leak is potentially fatal.
By removing your gas boiler and replacing it with an electric boiler, your risk of a carbon monoxide leak is significantly reduced, as electric boilers rely solely on electricity.
Any electrical heating appliance can also utilise power generated by solar panels. Some boilers are even compatible with a "solar diverter," which redirects any excess energy (that would otherwise be exported to the grid) to your boiler.
How do I know what size electric combi boiler I need?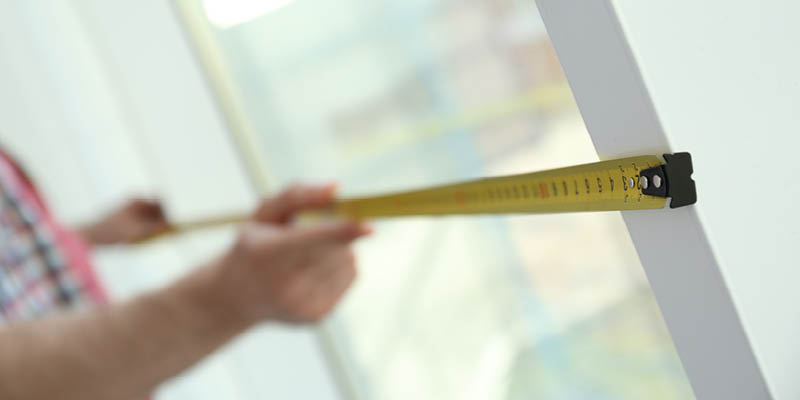 Sizing a boiler, gas or electric, is all based on how many watts of heating your property requires per square metre. This all depends on the level of heat loss in your property, which is ultimately down to how well insulated your home is. Modern homes are built to a higher standard than those built in the past, meaning your watts/sqm requirement is instantly lower.
The higher the insulation, the lower the heat loss, which means your property will require less watts of heating per square metre. Simple!
Heating is not one size fits all, and that also applies to electric boilers. To ensure you install the correct size electric boiler, your heating requirements need to be assessed by someone who is trained to do so.
Our trained heating engineers are able to advise you on which size boiler you need, and subsequently provide you with a quote.
Call us today on 0800 103 2700 to book your free, no-obligation survey.
Not ready for a survey just yet? Request a free catalogue now.
Are electric combi boilers expensive to run?
Currently, gas is a cheaper fuel to buy than electricity by the unit. However, the government are planning to gradually move the current levies paid on electricity over to gas, bringing the difference in cost down by a significant amount. The wholesale price of gas is also on the rise, further adding to the price. However, the real cost of heating is not only your energy bill.
Burning fossil fuels, such as coal and gas, releases greenhouses gases in to our atmosphere. These greenhouse gases hold on to the heat that enters our atmosphere, contributing towards an overall rise in the Earth's temperature, causing ice caps to melt and impacting the global population's health and welfare.
Can an electric combi boiler fill a bath?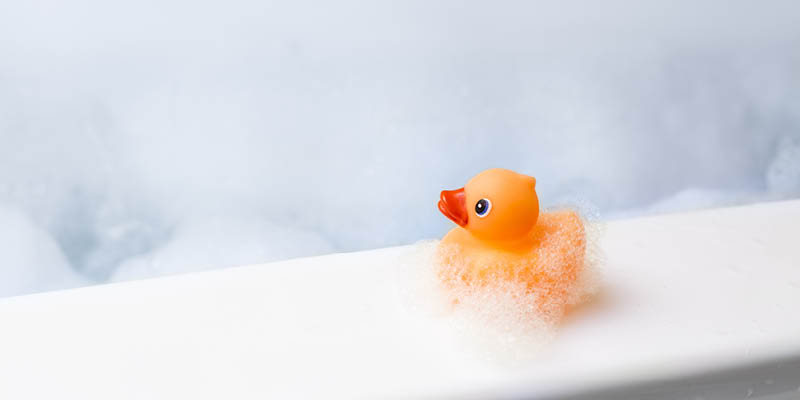 The simple answer is yes, but there are a few situations where you may not.
Due to the way a gas combi boiler works, they can provide an almost infinite amount of hot water. This is mainly due to the way they heat water – on demand.
Gas boilers use a gas supply to fire a burner, which heats water when it's called for. Electric combi boilers cannot work in the same way. They instead work by storing hot water to be used when you need it. For this reason, there is a limit to how much hot water your electric combi boiler can provide.
However, you should still be able to fill an average sized bath with your electric combi boiler. For homes with a very large or Jacuzzi style bath, you may struggle.
For properties with a higher water requirement, it is advisable to install a heating only boiler and separate hot water system, which will be capable of providing much greater amounts of hot water.
Electric combi features
Although this depends on which boiler you choose to install, most electric combi boilers don't require a scheduled yearly service. The main common feature is the ability to do away with fossil fuels and join us on the road to zero carbon.
The Fischer Electric Boiler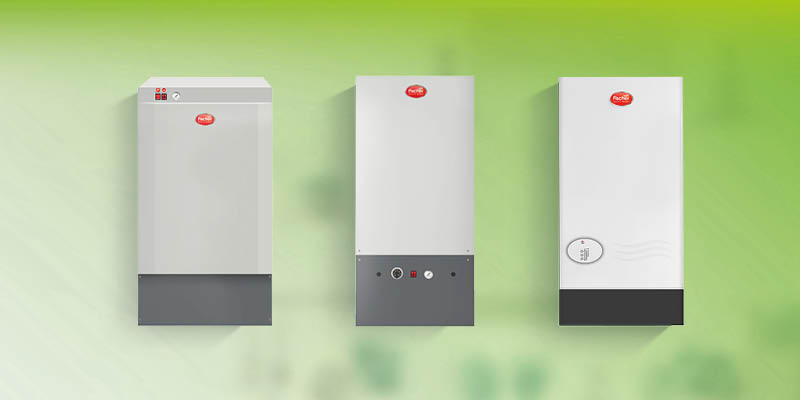 Our boilers have serviced the heavy demand commercial sector for over 50 years. Now adapted for your home, Fischer EB has been designed to ensure durability and efficiency. No servicing or maintenance is required.
By using a nickel-iron-chromium alloy, with the addition of molybdenum, copper and titanium – Fischer electric boilers provide high levels of resistance to a large number of corrosive environments.
Due to its low emissions, Fischer EB does not need a combustion tank or chimney.
The boiler is equipped with two independent tanks, insulated with 10mm of icolem. One tank is for hot water, with a capacity of 100L, manufactured in AISI316L stainless steel, designed to work up to 70c. There is also an in-built expansion vessel.
Due to the volume of water contained in the tank, you can remove your existing system boiler and hot water cylinder, and simply replace them with one single Fischer EB.
The second tank is carbon steel and is part of a closed circuit for heating, designed to work up to 90c, also with its own expansion vessel.
Our boilers are also available as heat only, allowing you to install either an Aquafficient or Aquafficient Eco+ for your hot water supply.
Much like our duo boilers, our heating only boiler doesn't require a scheduled yearly service, and both options come with a 10-year warranty for complete peace of mind.
Manufactured as standard with a wireless thermostat, you can be in full control of your heating from anywhere within your home.
By keeping your existing radiators, we can quickly and efficiently replace your existing boiler, allowing a seamless, mess-free change over from an existing boiler.