Want to Win a £25 Voucher? Here's How to Enter #FischerCares
The competition is taking Fischer's social media platforms by storm. On Facebook over 500,000 hopefuls have got involved so far and over on Twitter, prize-hungry participants have reached in excess of 300,000. We're even trying to raise a smile on the more stoic LinkedIn and whilst numbers can't quite match the others – we reckon we will crack the corporate class sooner rather than later.
"We want to do our part to help make people's lives a little bit easier, and what better way to do that than with a daily giveaway? We hope that our #FischerCares competition will bring a smile to people's faces and brighten their day," adds Keith Bastian.
The #FischerCares concept began as an advent giveaway with a daily prize being won throughout December 2022. The competition proved so popular that we decided to carry it on into the new year. Who knows, we may just carry on until 2024!
Along with a £25 gift voucher we have challenged ourselves to compose a daily poem or limerick with details of the prize. Our favourite so far involves a rather famous purveyor of pastries and goes something like this: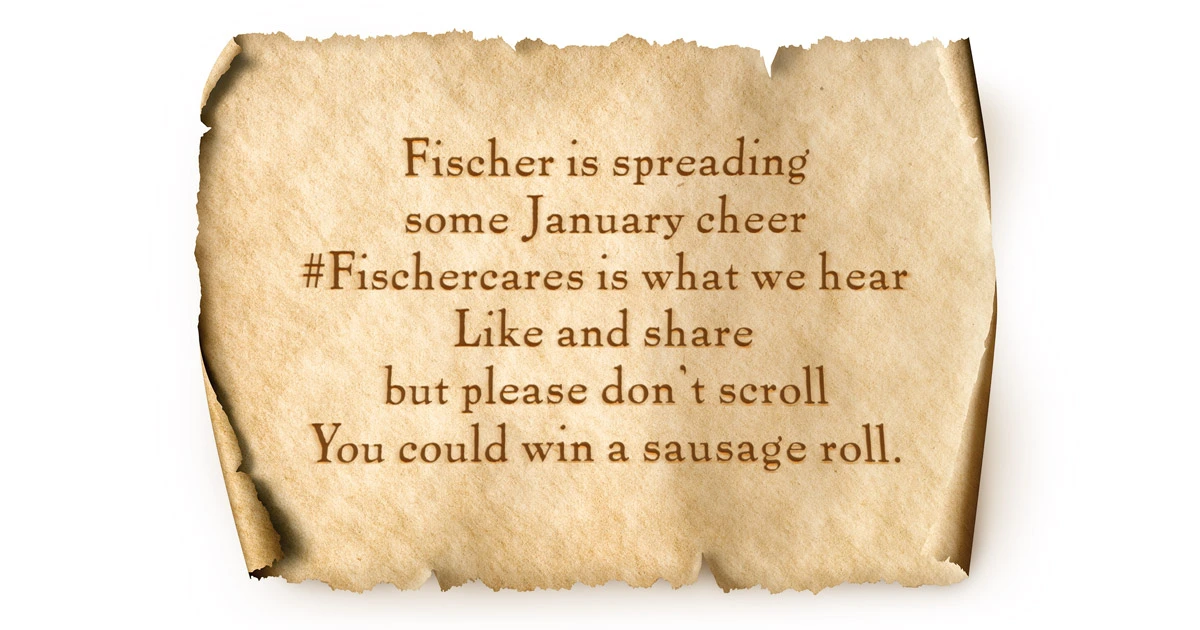 Think you can do better than our team of content writers? Send your poetic proposals to info@ffhuk.com and you could see yourself published on our social media sites.
Why are we giving away £25 vouchers for FREE every day?

According to a post from the House of Commons Library, The cost of living has been increasing in the UK since early 2021. In December 2022, Consumer Price Inflation was 10.5%, down from 11.1% in October 2022, a 41-year high.

The price of food, goods, energy and fuel has been increasing the most, due to high demand from customers and problems with supply chains. Russia's invasion of Ukraine has also contributed.

Low-income households are most affected by high food and energy prices. Households have reported cutting back on essential spending. The poorest households report skipping meals or using food banks.

As a company, we at Fischer understand that many households are facing financial difficulties due to the current economic climate. We want to do our part in helping our community and customers during these hard times. That is why we have decided to offer a daily £25 voucher to be used towards 50+ brands across the UK for different products and or services. This is our way of showing our support and appreciation for our customers. We hope that this gesture can help ease some of the financial burdens that families may be facing.

At Fischer, we're more than just an electric heating company. We care about our customers and the community. That's why we're giving back with our daily #FischerCares competition," says Fischer CEO Keith Bastian.
Also read, Fischer helps Holme Farm Keep Warm with Electric Boiler Donation
How can I get a £25 FREE voucher?
Here at Fischer, we understand that the cost of living crisis is hitting everyone hard, and we want to do our part to help lift people's spirits. It's not easy waking up in cold dark mornings, and getting out of bed can sometimes be a bit of a struggle. But, it's not all doom and gloom and that's why we're excited to share the news about Fischer's fabulous daily social media competition, #FischerCares. Every day, we are giving away a £25 gift voucher to one lucky winner. So far this year, we've given away vouchers from popular retailers like John Lewis, Greggs, Asos, and loads more!
To participate in our daily £25 voucher giveaway, all you need to do is follow a few simple steps. First, "like" the post on our social media platform that announces the giveaway. Second, follow our account on the same social media platform. Lastly, share or retweet the post to your own profile or story. By doing these things, you'll be entered into the giveaway and have a chance to win a £25 voucher as a part of our #FischerCares competition. It's that easy! Apple, Lush, Argos, and 47+ brand vouchers are a part of this giveaway.
Please click here for the full terms and conditions.

How are the winners selected?
The selection process is conducted in a randomized manner across our five social media channels, which include Facebook, Instagram, LinkedIn, TikTok, and Twitter. The winner is announced the next day on weekdays (Monday-Thursday), however, for Friday, Saturday, and Sunday, the winner is announced on Monday. We will reach out to the winner by commenting on the post and requesting that they direct message us. It is important to note that we will not require participants to fill out any forms or click on any links. If you find any suspicious activity, please do not engage with it.
We value the trust and security of our customers and assure that our giveaways are legitimate and conducted in a fair manner. We hope that you will take the opportunity to participate in our daily giveaway and have a chance to win a £25 voucher for free.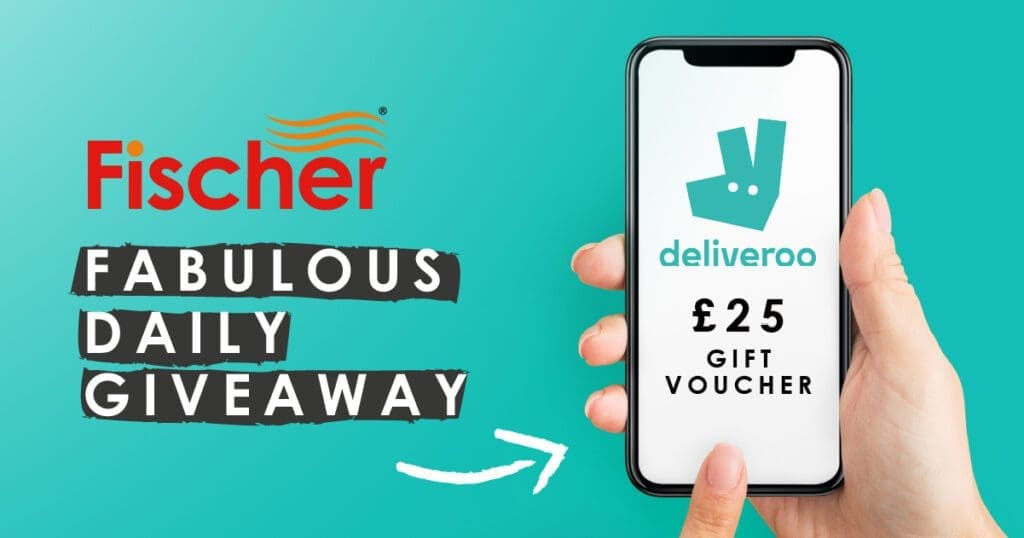 How can I redeem the voucher?
We are giving away one £25 voucher for free from 50+ brands every day through our campaign #FischerCares. A majority of these are e-vouchers. Depending on the Terms and Conditions of the brand these can either be redeemed online or at the store. 
The validity of these vouchers is anywhere between 1-2 years and is mentioned on the voucher when issued. There are usually aren't any issues with redeeming the voucher. However, if you are the lucky winner and if you happen to face any difficulties, please feel free to reply to us on the same channel via DM and we'll get that sorted.
To conclude, We are planning to carry this competition every day till the end of 2023 and help the community by offering one £25 voucher every day across 50+ brands through our campaign #FischerCares. This competition is running across 5 of our social media channels. In order to participate All you have to do is visit our social media platforms, like and share the daily post, and follow us and you'll be entered for a chance to win. It's that simple! And with £25 up for grabs every single day, you have multiple chances to win.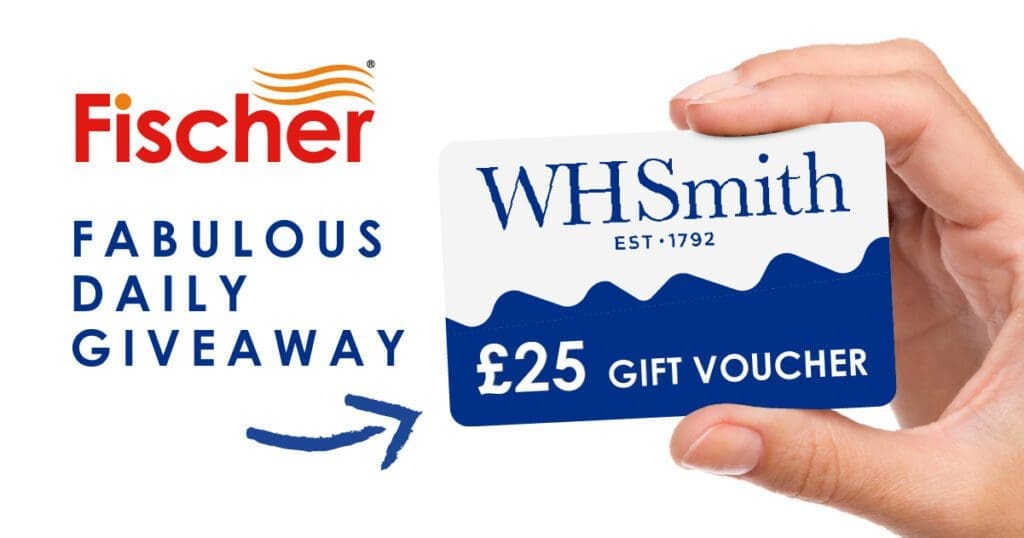 FAQs
 

Are there any age or location restrictions for entering the contest?
Please click on this link to view the terms and conditions.
 

How many times can I enter the contest?
As you like, share, and follow us on social media you become eligible to be a part of the #FischerCare competition giveaway.
How are the winners selected for the contest?
Winners are selected in a randomized manner from across our 5 social media channels.
Are there any restrictions or expiration dates on the vouchers?
Fischer does not have any restrictions in terms of the expiration date on the voucher. However, if you are the lucky winner we would advise you to look carefully for the voucher validity details.
Can the vouchers be used at any store or are they specific to a certain retailer?
We would request you kindly check that detail on the voucher or the brand's website.
Who do I contact if I have a problem or question about redeeming my voucher?
If you are the lucky winner of the free £25 voucher giveaway as a part of our #FischerCares campaign you will be asked to DM us. If the need arises, Please reply to that DM or email us at the same email address that sent you the voucher.
 

Are there any other prizes or rewards offered in addition to the daily vouchers?
There aren't any other prizes apart from the daily £25 free voucher.
 

Are there any rules or terms and conditions that I need to be aware of before entering the contest?
Yes, Please click on this link to view the terms and conditions.
.
How long will the contest be running?
We intend to carry on the #FischerCares giveaway throughout 2023.
Can I win more than one voucher?
Yes, if you're lucky enough.
Are there any fees associated with entering the contest or redeeming the vouchers?
Participants don't have to pay any fee whatsoever in order to be a part of the #FischerCares competition
Can I transfer or give my voucher to someone else?
Yes, you can gift your voucher to someone else.