Electric heating is the future. With gas powered heating systems contributing heavily to our nation's carbon footprint, it is inevitable that at some point in the not too distant future, we will all be reliant on an electrical heating system in our homes.
Along with many other activities, carbon dioxide is released when we burn fossil fuels to power our homes and industry. Coal, oil, gas and other types of fossil fuels are all culprits.
There are over 26 million gas boilers installed in homes and offices around the world, but many people don't realise that despite being extremely popular, they are not necessarily good for our environment.
What is an electric heating system?
An electric heating system is any type of heating system that is powered by electricity. This could be an electric boiler, to replace your existing gas system like for like, or perhaps it's independent eco-friendly electric heaters, to provide room by room control and a constant, comfortable temperature. It could also relate to a heating system that provides hot water to your taps, showers and baths.
The key thing to remember about electric heating is that every electrical heating element is 100% efficient – converting 100% of the energy it consumes in to heat.
With the UK Government's focus switching from gas heating systems to cleaner, electric alternatives, now is the perfect time to make the switch for a number of reasons:
The UK's electricity generation is getting cleaner, switching away from fuels such as coal and gas
All electric heating systems are 100% efficient
There are many options to choose from due to the rise in uptake of electric heating systems
Renewable electricity is much more easily accessible
What are the different types of electric heating systems?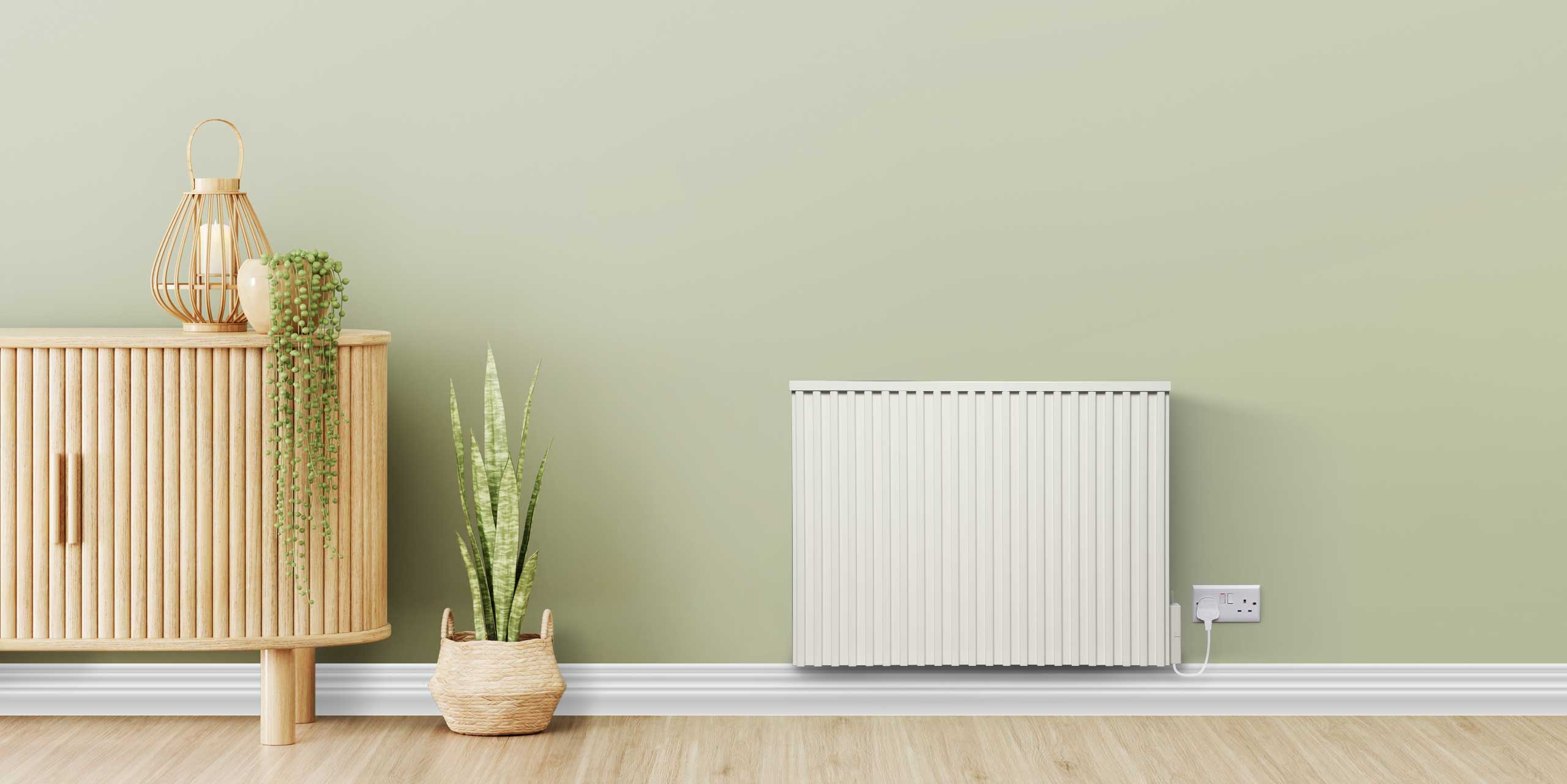 Electric storage heaters
Electric storage heaters come in many different forms. From night storage heaters to modern, clay-core heaters – no option is one size fits all.
Many of us are familiar with night storage heaters – bulky, brick filled heaters that store heat overnight and release it during the day, or at least that is what they are supposed to do. Many users find that their night storage heater is far too hot in the morning, and almost completely cold by the evening. This forces them to invest in a secondary form of heating to act as a "back-up" to their inefficient night storage heater.
Although more modern night storage heaters are now available, the fundamentals are still the same. They still charge up overnight, they still don't allow you to set a temperature, and they still run out of heat in the evening.
So what are the other options when it comes to electric storage heating?
Fischer dynamic clay core radiators are designed to be aesthetically pleasing, only 11cm in depth and available in a number of selected RAL colours. Manufactured to include a purpose-built convection chamber in the back to aid in the distribution of heat and reduction of wasted heat, their sleek, modern design does not affect their efficiency.
Fischer dynamic clay core radiators are not only slimline – but they also come with many other benefits.
They are also designed to be efficient and controllable for complete comfort and peace of mind, and have even had their efficiency tested and verified by BSRIA, BRE and EST.
Our dynamic clay core radiators also contain a patented 40mm chamotte clay core. Our 40mm clay core is double the thickness of the core found within many other electric radiators, which is usually around 20mm or less. Double the thickness, resulting in double the amount of heat storage, further improving your comfort.
Wi-Fi control options are also available, allowing you to control your heating from anywhere in the world. Utilising a smart thermostat and receiver, along with a smartphone app, you can set custom programs, temperatures and other heating scenarios at the touch of a button.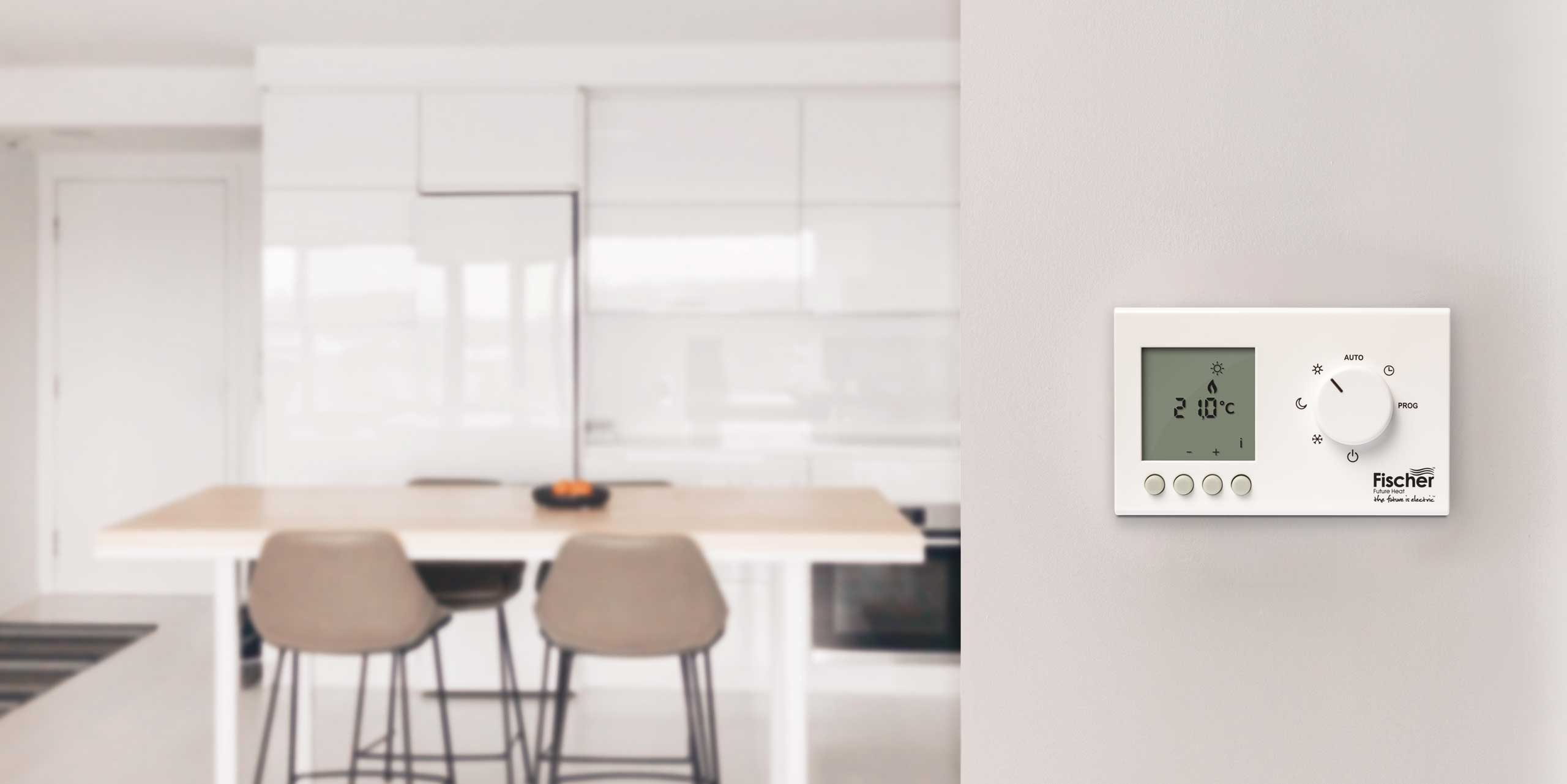 Infrared electric heating
Unlike other forms of heating, infrared heating doesn't heat the air – it heats the people and objects within the room.
Although infrared heating makes no noise and often fits in well with your existing décor, there are a few things to bear in mind before making the switch.
Firstly, infrared heating will not reduce moisture in your property. As it doesn't heat the air, your property will still technically be cold. This also means that during the depths of winter, you could end up with frozen pipes and a subsequent leak.
In addition, infrared panels require an open space to work effectively, meaning you may struggle to use an infrared heating system if there is a lot of furniture in your home. They perform most efficiently when there is no furniture around them, as this allows the infrared to heat you and the objects in each room.
Air source heat pumps
Air source heat pumps are an increasingly popular way of heating our homes in the UK. Reliant on an external fan unit and internal buffer tank, air source heat pumps bring in air, extract the warmth from that air and pass it to a refrigerant. Through compression, the overall temperature of said refrigerant is increased, and the newly compressed refrigerant is used to heat the water required for your central heating.
The UK Government are pushing heat pumps as the future of renewable heating, however they also have their downfalls.
Not only is the external fan unit large and noisy, often with two separate fans inside, it has to sit outside of your home.
In addition, it relies on warmth from the air to generate heat, so when the air temperature is low, the "air source" part no longer functions, therefore using an element to produce heat, making it no different to any other electric heating system.
As most of us only use our heating in the winter, chances are the air temperature is going to be low most of the time.
When an air source heat pump does produce heat, it produces a much lower temperature than an equivalent boiler. This forces homeowners to install twice as many radiators as they had with their boiler in order to achieve the same level of warmth in their home.
No heating system is one size fits all, but air source heat pumps also require a good level of insulation in the property they are installed in, something that not every home has.
Ground source heat pumps
Ground source heat pumps work in a very similar way to air source heat pumps, the major difference being the source of heat.
The earth's temperature is relatively consistent around 2 metres below surface level, anywhere from 10-15 degrees centigrade. Ground source heat pumps extract this warmth and use a refrigerant in the same way that an air source heat pump would.
However, with a ground source heat pump, you must install pipework underneath your garden in order to extract the heat, taking up quite a lot of physical space.
They also require good levels of insulation, and still provide hot water to your central heating at a much lower temperature than a conventional boiler.
Both air source heat pumps and ground source heat pumps are eligible for a grant, but the grant in question must be applied for after you have installed the product. You are also not guaranteed to receive the grant, as it is down to the installer to correctly submit the required information.
Electric underfloor heating systems
Underfloor heating can be a great way to heat a room with a cold floor, such as a tiled bathroom or kitchen.
Electric underfloor heating uses cables or heat pads to heat your room. These cables or pads sit underneath your flooring and heats the room when switched on.
Alternatively, you can install wet underfloor heating alongside an electric boiler or heat pump. It relies on the same hot water that your normal radiators would.
However, underfloor heating can be difficult to install retrospectively, and works best in smaller rooms due to the upheaval of installing it.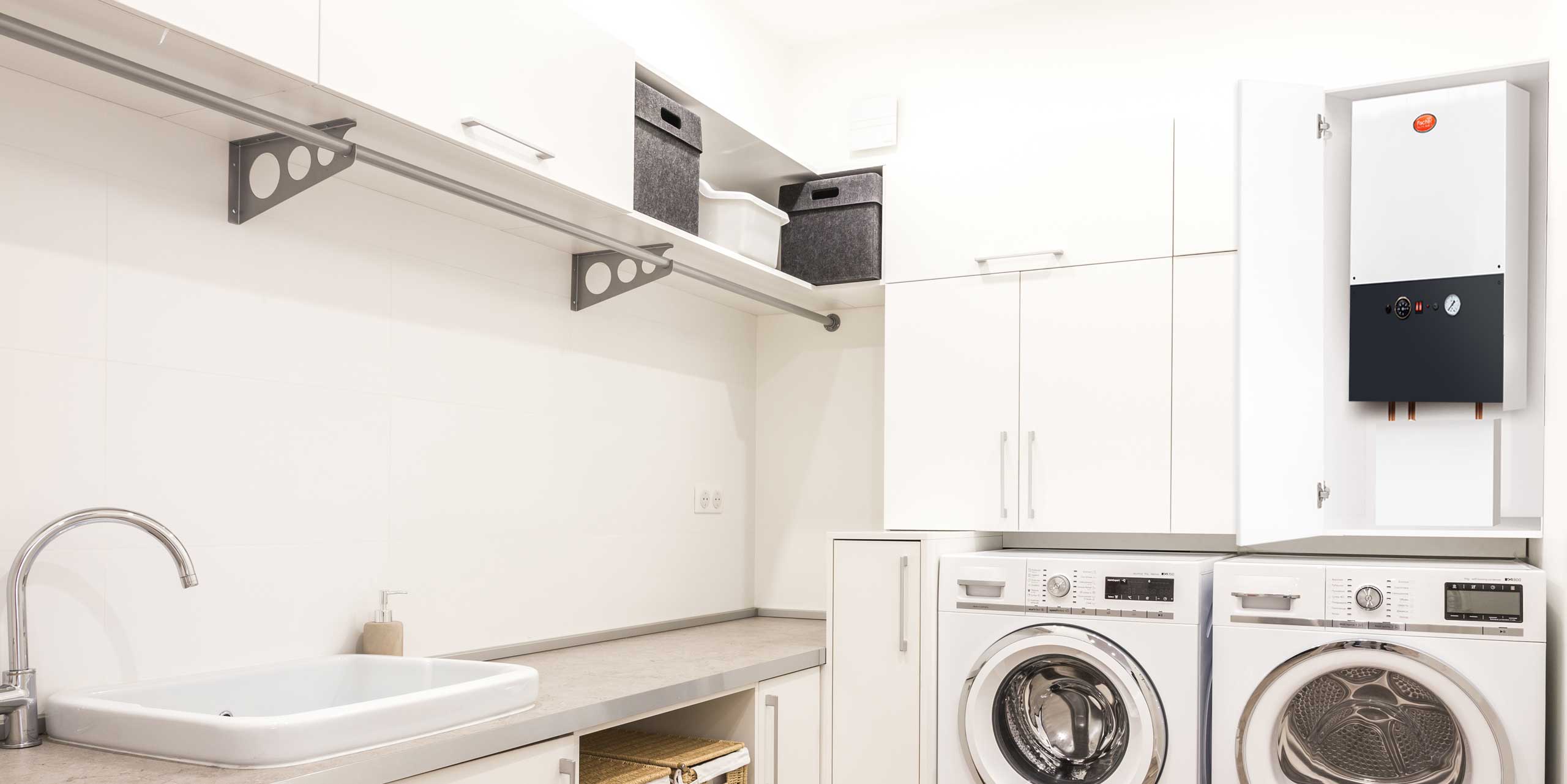 Electric boilers
Electric boilers work very similarly to a gas or oil boiler. They heat water using an element. This water is then sent around your home to individual "wet" radiators. Each radiator can be controlled with TRV, which simply limits how much hot water travels to each radiator.
With the UK Government introducing a ban on gas boilers in all new build properties from 2025, and talk of a total ban on gas boilers from the mid-2030's, electric boiler uptake is on the rise.
As they don't rely on gas or oil, they can be powered by 100% renewable electricity and some electric boilers don't require any yearly servicing or maintenance, something that cannot be said for gas boilers.
Available as both combi and heating only systems, electric boilers can also utilise energy generated by solar panels, further reducing your energy consumption from the grid.
By using a nickel-iron-chromium alloy, with the addition of molybdenum, copper and titanium – Fischer electric boilers provide high levels of resistance to a large number of corrosive environments.
Due to its low emissions, the Fischer Electric Boiler does not need a combustion tank or chimney.
The boiler is equipped with two independent tanks, insulated with 10mm of icolem. One tank is for hot water, with a capacity of 100L, manufactured in 304 stainless steel, designed to work up to 70c. There is also an in-built expansion vessel.
Due to the volume of water contained in the tank, you can remove your existing system boiler and hot water cylinder, and simply replace them with one single Fischer Electric Boiler.
The second tank is carbon steel and is part of a closed circuit for heating, designed to work up to 90c, also with its own expansion vessel.
Fischer boilers are also available as heat only, allowing you to install either an Aquafficient or Aquafficient Eco+ for your hot water supply.
Much like our combi (duo) boilers, our heating only boiler doesn't require a scheduled yearly service, and both options come with a 10-year warranty for complete peace of mind.
Manufactured as standard with a wireless thermostat, you can be in full control of your heating from anywhere within your home.